Looking for the best Morocco Tour Packages from the USA sometimes seems a hard choice, how many days to book? What destinations to visit? How to plan for your itinerary? All these questions come to your mind and you don't know what to do!
In fact, when you're planning a trip to Morocco, there are a lot of factors to consider – from your flight and accommodation to your arrival and departure points. Our expert in Morocco have put together this handy guide, full of all the information you need to choose (or customize) the perfect travel package. These packages are based on the preferences of past travelers and always receive 5-star reviews. You can take them as samples to design your itinerary if you would like to travel by yourself, or contact us to save the hassle for you.
How to Choose your flights to Morocco from the USA?
There are two kinds of flights between Morocco and the USA: direct and indirect. Direct flights are operated by Royal Air Maroc and depart twice a week from Mohammed V Airport in Casablanca. These flights land at John F. Kennedy International Airport or Miami Airport in the USA.
While direct flights from Miami to Casablanca can take up to 8 hours, indirect flights often involve stops in other European citie like Spain, France, and Switzerland, which can extend the flight time to 24 hours. However, the overall time spent flying is often more optimal on indirect flights. For example, a flight from Chicago to Casablanca may take 10 hours total, but if it is direct, the flight time would be much longer.
When it comes to traveling from Europe to Morocco, there are some advantages and disadvantages to taking into consideration. One advantage is that you get to choose which city you want to settle down in when you travel through Europe. There are multiple flights scheduled daily between Europe and Morocco, so you can fly into Marrakech, Rabat, Tangier, or any other city that you want. However, one disadvantage is that the flights can be expensive.
If you're looking to travel to Morocco from the USA, there are a few things you should keep in mind. One is that it can be more time-consuming to travel to Europe first and then make your way to Morocco from there. Another thing to consider is your point of origin. If you can't fly into JFK or Miami, there may be other airports that have better flight deals. With the power of the internet, it's easy to find the best flight for your needs.
How do you choose your best Morocco tour package ?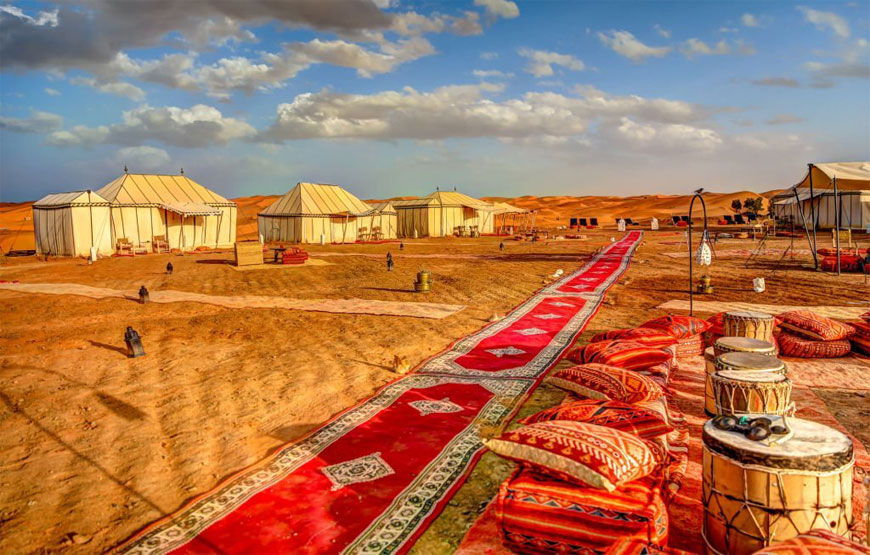 For travelers coming from the USA, Japan, Australia, Canada, or other distant locations, we always suggest a minimum of 10 days.
Travelling can be tough- especially when you're in the air for a long time. The tickets are expensive, and by the time you land, you're usually pretty exhausted. Therefore, it is worthless to cover all this distance for just a couple of days. It is sure that you will see Morocco, but not the real Morocco; its contradictions, its spirit, its authentic culture.
As a result, those living in distant locations, they will most probably visit Morocco only once or twice in their life; then, it is better to spend at least 10 days to know what Morocco is.
However, to get the most out of your Morocco trip, you need at least 15 days so that you can include Essaouira; Agadir, and Taroudant alongside other destinations. The 10 days tour packages exclude either Essaouira or Chefchaouen from the itinerary, so it's up to you to decide which one you want to see.
Long Morocco tour packages
If you're looking to book a tour of Morocco from the USA, we would advise you to book one that is at least ten days long. This is because if you book a tour that is shorter than this, you will only see a part of what Morocco has to offer. These shorter tour packages tend to focus on only one area of the country.
Of course, we understand that some travelers may want to adjust the itinerary to better suit their needs, and we are happy to do so. However, they often find that they spend a lot of time in the car traveling between locations rather than being able to relax and explore each place properly.
If you want to get the most out of your trip to Morocco, we recommend ten days or more. With so many cultural monuments and exotic places, you need time to see everything, talk to native people, and really discover the culture. Ten-day Morocco tour packages are great if you're coming from the USA because they give you a chance to see and experience the country in a comfortable way.
Places you should consider when you travel to Morocco from USA
Chefchaouen, the pearl city of Morocco
Morocco is home to many beautiful towns, but one of the best in this small mountain town in the northeast. The setting is wonderful, with the Riff Mountains in the background and full of charm and authenticity. The city offers you the best experience you can imagine, with its old Medina embodying the Moroccan and Andalusian influences. You'll find red tile roofs and bright blue buildings everywhere you look, making for beautiful portraits no matter where you turn your camera.
Every Morocco tour package from USA should include this wonderful town
Fez, the maze medina of Morocco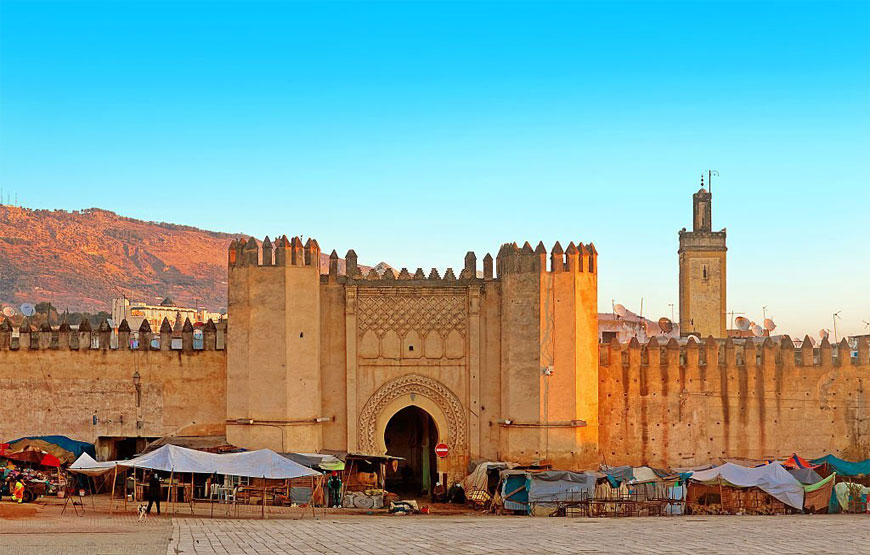 Fez is a veritable treasure trove of history and culture and is divided into two distinct parts: the modern Medina and the old Medina. The old Medina is believed to be the largest surviving example of its kind in the world, making it a truly unique experience not to be missed. You'll definitely be talking about your time in Fez long after the tour is over.
With the Morocco Travel guide, you will visit a lot of places in Fez. Your first stop will be Bab Boujloud, a big old gate of the Medina. You will also see the minaret of the Medersa Bou Inania, which sits just after the Bab Boujloud gate.
Finally, you will stroll over to Medina to see Al Quaraouiyine University, which is believed to be the first university in the world. After lunch, you will visit a lot of other interesting places.
Essaouira, The windy city of Morocco
Essaouira is a beautiful city with a rich history. It was occupied by the Romans, Phoenicians, and Portuguese, and each part of the city tells the story of these three great civilizations. The city is also favourite location for some film producers, including the production staff of Game of Thrones, who used Essaouira as a backdrop for some episodes of the series. If you're looking for a city with beautiful scenery and a lot of history, Essaouira is definitely worth a visit.
If you visit Essaouira in the second week of June, you'll be able to attend the Gnawa festival. This is when groups from all over the world come to Morocco to perform. Essaouira is also known as "the City of the Wind" because it's been influenced by so many different cultures.
In short, this city embodies the culture of different civilizations.
Marrakech, the charming city of Morocco
With its rich history and exotic North African charm, Marrakech is a city that will leave you spellbound. The city's name provides the root for the name of the country itself, and it is no wonder that Marrakech is the top attraction in Morocco. With our local guide, you will discover its fascinating history through the notorious Koutoubia, the Majorelle Garden, Bahia Palace, and the Saadian Tombs.
The Koutoubia minaret was built in 1162 and is one of the greatest examples of Moroccan architecture. The Majorelle Garden, built by French painter Jacques Majorelle, is full of cacti, palms, and ferns. Another monument includes the Saadian Tombs, which date back to the Saadian dynasty, and the Bahia Palace with its beautiful Eastern architecture from 1866.
The desert adventure: camps and camel trekking
Desert camping is a once-in-a-lifetime experience that will leave a lasting impact on your whole travel itinerary. You'll get to see how some of the world's first nomads used to live in the desert and get a first-hand look at an authentic way of life.
As the evening sets in, you'll be treated to a stunning light show as you watch the colors in the sky change. After dinner, local Berbers will put on a performance of traditional music and dance. You'll have the chance to join in and share some laughs and good times with new friends.
Hollywood of Africa, cinema studio of Ouarzazate
The right Morocco tour package for USA includes Hollywood of Africa in its offer. The Oscar Cinema Studios of Ouarzazate, which was established in 1983, has been a favorite destination for filmmakers and producers from all over the world.
The studio, since its creation, provides the material to international film makers to craft some of the famous movies ever made. Lawrance of Arabia, Babel, Star wars, Cliopatra, Prince of Persia, the Game of Thrones, the Mommy, Prison Break are just some movies and TV shows used Atlas Studio for recording
Kasbah Ait Benhaddou is definitely a must-see for anyone visiting Morocco. It has an incredible history, having been used for decades as a filming location for some of Hollywood's biggest blockbusters. Games of Thrones, Gladiator, Babel, and Lawrence of Arabia are just some of the movies that have been shot there. Not to mention, it's also a popular spot for commercial and modeling photo shoots. So if you're looking for a place with both Hollywood glamour and historical significance, Kasbah Ait Benhaddou is the perfect destination.
Best Morocco Tour Packages from USA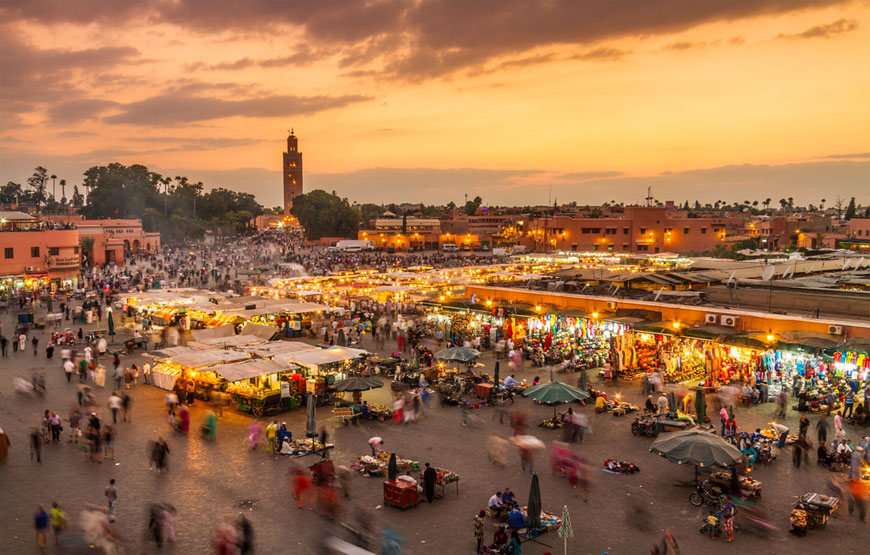 15 Days Tour Packages form Casablanca
The 15 day tour package from Casablanca is one of the top Morocco tour packages from USA. This tour allows you to see all the best that Morocco has to offer. The tour includes beautiful cities like Marrakech, Fes, Essaouira, Chefchaouen, and Rabat, as well as villages, mountains, canyons, landmarks, and more importantly, hidden attractions.
On this tour, you will travel with a well-managed time to discover the country in depth. You will reach places you can't reach by yourself, and you will witness the contradictions of Morocco.  
In this package, you don't miss anything, instead, you extend your time is some locations like Fez and Marrakech. 
You can read a detailed 15 days itinerary here
12 Days tour package for USA travelers
Another best Morocco tour package from USA includes 12 days package from Casablanca.
This package includes all of the most popular destinations in Morocco, while the 15-day tour includes attractions according to their popularity. Therefore, within the 12-day tour, you won't miss any major attractions, but you also won't have time to see everything. The attractions excluded from this tour include Taroudant and Agadir.
In addition, you'll spend less time in many locations like Chefchaouen and the desert.
You can check the detail of this 12 days package here
10 Days Morocco tour package
The 10-day tour package is one of our most popular options for travelers. Usually, people book this tour because they have ten days of vacation. However, it should be noted that the tour doesn't include stops at Essaouira, Agadir, or Taroudant, and you will spend less time in the desert. In the 10-day tour, you will only spend two days in the desert; however, in the 15-day option, you will spend four days.
If you can't afford 15 days or you don't have enough time, the 10-day tour remains one of the best options as it covers the main attractions in Morocco.
Within this package, you will be able to see some of the most beautiful attractions in Morocco including all the attractions stated before. You spend enough time in each place while you move in well managed time.
You can check 10 days package here
Customized Morocco Tour packages from the USA
We know that each travelers has a unique experience that speaks to their individual desires. To do this, we design our Morocco tour packages with flexibility in mind. We understand that not every package we offer will be the right fit for every person. At Holidays Points, we understand that everyone's idea of the perfect vacation is different. That's why we offer fully customized private tours that let you tailor your trip exactly to your needs.
When it comes to planning the perfect Morocco vacation, our team of professionals work with you to tailor a trip that's just right for you and your group. All you need to do is tell us what you want to see and do, how long you want to stay, and what destinations you have in mind. And the best part is that our custom tour service comes at no extra cost to you.
Therefore, you can click here and contact us to customize your best morocco tour package.